Get the best of Improve Your Social Skills
I wrote Improve Your Social Skills because
I believe
everyone deserves good friends.
I pour hundreds of hours into this site every year to make sure that it's as good as possible -- because my advice has real-world impact. I know that people depend on Improve Your Social Skills to help them escape loneliness, combat anxiety, and find the connections they're yearning for.
It's not about the money for me. It's about the emails I get where people say things like "Because of your guide, I asked a girl on a date for the first time ever" or "Because of your guide, I've decided to try therapy again" or "Because of your guide, I don't feel lost in conversation anymore."
That being said, I do make money from this site -- and the money I make allows me to spend time on the site. My income from Improve Your Social Skills means I can afford to dedicate the hours to write new content, answer reader emails, etc.
Premium Content
Because of this, I have the site set up on a paywall model. About half of the content is totally free, while half of the content is behind a paywall.
If you'd like access to the paid content, you can sign up for a membership, which is just $5 (although you can give more if you're feeling generous.) That's a one-time fee, so you're not going to be billed monthly or have a surprise charge or anything goofy like that.
If you can't afford even $5, you can get a free "Pay It Forward" membership in exchange for volunteering to do a good deed.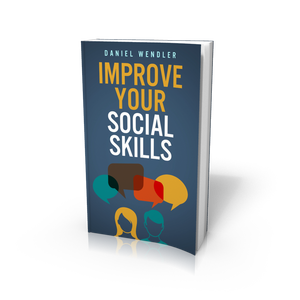 Amazon
All of the premium content on my site is also available in my book Improve Your Social Skills (just flip to the chapter you're interested in!) You can get it on Kindle for $5, or paperback for a little more if you'd prefer to hold it in your hands.
Membership Benefits
As a member, you get warm fuzzy feelings because you know you are helping me add more content to the site and have a dinner out once in awhile 🙂 You also get access to all of these lessons:
Group Conversation
Open And Closed Groups
Joining A Group Conversation
Group Conversation Flow
Empathy
Understanding Yourself
Understanding Others
Nonverbal Empathy
Meeting People
Finding Your Group
Everyday Connections
Person To Person Connections
Making Friends
Finding Good Friends
Starting A Friendship
Deepening A New Friendship
Dating
Healthy Relationships Defined
How To Have A Healthy Relationship
Beginning A Romance
From Friendship To First Kiss
Building A Relationship Worth Having
Slow And Steady...
...Wins Their Heart
Endorsements
There are a lot of people who like my guide.
Not only is Dan fun and laid-back, he is also really logical and linear in his teachings. He's great at taking social skills and breaking them down into understandable step-by-stepsIntrovertedAlpha.com/Build-Your-Social-Circle
Daniel Wendler is an authority in the field of how to achieve social success.SocialProNow.com/blog/Social-Success-Expert-Daniel-Wendler-Shares-His-Best-Advice/
This guide encourages me to be my best self and make fruitful and lasting friendships with others to help them be their best selves, too... This guide is unlike any other, and I can't recommend it enough.Amazon.com user review
Membership Questions
Got questions? I've got answers.
Become A Member Now!
Ready? Click the button of your choice, and you'll be taken to Paypal to begin your membership right away!